The Yonder Night Out is Back!
March 21, 2023
Look we hear you going 'about bloody time', but, yes, Yonder Nights are fucking back.
It's been a minute, no doubt, but with a bit of persuading, a couple breakdowns, many beers and just a dash of hustle, they are here to stay. The groundwork has been laid with our fresh bar redesign being a token of commitment to delivering what we think will be the night out you would kick yourself over missing.
From Thursday to Saturday night Yonder will be open all the way through to the scary hours of the morning, with cracking evening bites, fresh cocktails and some of the best live music acts NZ and the World has to offer coming to our stage.
Our night's menu has been refined, with crowd favourite Bao Buns and Tacos returning and yes, the cheese bread is back as well. This new take on the old menu is only going to expand over the coming weeks and months, accompanied by a new cocktail menu. Bar Manager, Paul, has worked hard to create some of the best tasting and looking (in our ever humble opinion) cocktails we have seen this side of town. Light and refreshing on all ends with DJ's playing beats on the patio – ready to guide you into the late night.
While this post has quite a cocky attitude to it, it's fed with a genuine excitement for what's coming. Last week's Bar Bash Launch Night was a reminder of what was and while we know we cant make up for lost time, we are going to give it a red hot crack.
Come on down, nights at Yonder are only going to expand and we cant wait to see what that looks like. 
Looking forward to catching up over a beer. 😉
Thursday to Saturday 8AM – LATE
Happy Hour is from 4PM – 6PM
The Home of Live Music (again)
Last Month's line up of gigs and events was nothing short of a good time. A slew of up'n'coming and established acts have joined Yonder's alumni of those who have graced the stage over the years.
Some of Dunedins finest, L Hotel with Jam Henderson rounded out the end of January in a stellar display of Indie rock talent. Their live show brought a welcomed bit of grit to the surf rock genre. Frontman Jono Everts vocal work brought a unique pulse to the live performance – orchestrating the tempo and tone for the 4 piece band and oh-boy you could feel it in the room. The Yonder crowd was in for the journey wherever it took them.
Following this we had what was arguably the staff's (and my personal) most anticipated live show in a while, The Grogans. Clocking nearly half a million monthly streams on Spotify, the Melbourne trio were fresh off the back of a sold out Aotearoa tour in 2022 and you could tell Queenstown was itching for their debut in town. The free event had a line down the block from the moment it started. The energy was something else, as the band flowed between mellow classics 'Lemon to my Lime' and 'Money Will Chase You' to garage rock staple 'Washed Out' the Yonder Punters were moshing, cheering and dancing with everything they threw at them. It was a night for the core memory bank.
Our new venue manager, Sam, even managed to snag a signed record from the boys as a memento to the evening. 
Closing out the summer run of bands we had up-and-comers Pretty Stooked with their 'Day Today' EP launch tour. Arguably the biggest surprise of the month, the Christchurch 5 piece left an unexpected impression on both Yonder staff and crowd alike. Their emotive lyrics and impeccable stage presence, lead from frontman Eddie Kiesanowski, took the crowd on an indie rock journey. In a few years time you will head Queenstown locals subtly flexing, 'yea I remember watching them on the Yonder Stage.'
Now, we don't want you spewing about missing out on any shows at Yonder, so keep up to date on our social channels for all upcoming gigs.
FRESH MERCH BABY!
Hey, you're pretty good looking… you know what would make you look even better…
Our new merch is here! So now you can subtly boast about your arrogant love of Ethiopian roasts and flamboyant cocktails with style and ease.
The Tee's currently come in 3 colours, Green, Pink and White sizing from S-2XL and while the sun is still shining in town you may as-well snag one of our new caps as well. 
Currently only available in house at Yonder, they will roll out to online purchases in the near future. Next time you are grabbing your morning coffee, have a geez at them in the Cottage and maybe… I don't know… pick one up. You've earned it.
Queenstown Jobs
October 07, 2020
We're hiring and we want you to join our team!
Chefs & Kitchen Hands
Yonder is looking for a chef to help us bring #goodtimedining to the fine people of Queenstown. Be involved with a fun team and be part of an innovative business, that lets you bring your own ideas to the table (only if they're good).
Must have previous experience and be ready to work in a fast paced environment.
Please apply to [email protected]
Kitchen Hand:
Yonder seeks a top gun kitchen hand. Fast paced restaurant environment, strong team and great perks. Must have the ability to have a laugh, even when the pressures on. Queenstown based applicants only.
Please apply to [email protected]
Bartenders
Epic Bartender Wanted!
You can shake a decent cocktail, pour a pint and sip wine beyond the basics. More than anything you love to talk about booze, music, good time dining or anything under the sun.
Backyard BBQ bartenders need not apply- experience a must!
We'll give you an awesome time surrounded by good people, food, atmosphere, and fair pay.
Apply now by dropping your CV off at YONDER-14 Church St.
Or introduce yourself online and send your CV to [email protected]
Queenstown with Kids
April 13, 2020
Queenstown with kids is a little bit easier with a guide like Rachael Tagg. Parents across the world are finding out how hard it is to be locked in with little ones. Our Yonder team is experiencing this first hand, with a few babies in our own ranks! Resort towns are notorious for not being the most hospitable places for families. They can be crowded, hard to navigate and under-resourced in child-friendly activities. Thankfully, Queenstown isn't one of these places. Family-friendly events like LUMA and WinterFest, as well as an ever-growing amount of hospitality establishments to catering better to families.
Luma and Winterfest are both aimed at reframing Queenstown as a place to be enjoyed by families from all over New Zealand. Having events that are child and family-friendly is an important part of Queenstown tourism, one that we support by making healthy and fun meals for the little ones.
Still, with all the progress to be more inclusive for families, Queenstown can still be a hard place to navigate with kids. Going anywhere new can be hard enough, but having a little extra guidance can help.
We where so stoked to be included among best places to eat with kids in Queenstown according to photographer Rachael Tagg. We try to make a kids offering that is as well-loved as our adult food. You can see our menu here.
You can read Rachel's article called Best Places to eat…With Kids in her Queenstown Adventure blog here.
Yonder seeks a chef!
December 12, 2019
Accelerate your summer and make the most of your time in Queenstown by working as a chef in our award-winning venue! We're regularly listed on all the top-10 list. Also, we're Winner of 2018 Resturant Association's Best Design and Ambiance.
This is your chance to make an impact, contribute to the team and help us construct something truly unique in Queenstown. The motto is Good Time Dining. and our belief is that every party should be a dinner party. Our menu is sourced by our chefs and inspired by our travels.
Our international kitchen is a huge part of our success. The influence of our chefs are everywhere on the Yonder menu. Being a Yonder Chef is a great opportunity to give input, learn and gain experience. Also, try your hand at making a range of food from slow-cooked pork, to dairy-free, gluten-free, vegan and vegetarian meals.
Ideally, not only can you cook, but you love to cook (duh). You're experienced in working with a team, communicating on the fly and used to the pressure of working in a fast-paced kitchen. Bonus points if you're fast, like really fast. You have a vision for your career and want to elevate Yonder. We want your next employer to say "Damn, you worked at Yonder in Queenstown?" because that is the level we're heading to and we want you to help us get there.
Interested? Please email your CV to [email protected]
The Queenstown Marathon Dining
November 12, 2019
We Just launched our new gift card system, right in time for The Queenstown Marathon! Yonder eGift cards let you purchase all the Good Time Dining at Yonder from the comfort of your phone. If your friend was born before the year 2000, they can print out their voucher or if they're up to date they can just flash the barcode on their phone.
Swoop up your own Yonder gift card here. You'll look cooler than Liam. (see below)
If you're running in The Queenstown Marathon or volunteering, we've got you covered with the Medal Perks program. Score a discounted bottle of bubble to help you celebrate your hard work or bring some relief to your sore legs. The World Bar is also participating in the medal perks program, offering a bucket of beers for $24.
Over Queenstown Marathon weekend we'll be open our normal hours from 8 am to late, but things might be kinda crazy so please try to book in here. Thanks in advance for being patient with us.
Queenstown Story Slam Podcast Launch
August 20, 2019
Queenstown Story Slam has quickly become one of Queenstown's most unique and well-loved events. Each month Abby and Claire host an array of hand-selected stories from all over the world to be told live. Their goal is to encourage human connection in our transient town. Each month has a theme that invites storytellers to explore themes like, "this might hurt", "hello and goodbye", "recipe book" and "happy accidents". Qt Story slam is the first and only live storytelling event in the region.
After 5 months of successful months, Claire and Abby have launched the Queenstown Story Slam podcast. Now available on Apple Podcast, you can catch the best stories online or once a month at the free live storytelling at Yonder. This podcast is the perfect edition for the binge podcaster especially for fans of Serial or The Month. Follow their facebook page to get exclusive content and find out how you can participate.
NEW GOOD TIME COCKTAIL MENU
July 24, 2019
A rare sighting of an unidentified cocktail has been spotted on the Yonder Instagram, so teams of experts have been assembled, and although the pictures are dark, there seems to be a consensus that this drink is the mythical Uga Booga. The Uga Booga is sweet, tart, boozy and served in the best damn glass in town. Word on the street is that this drink will be featured on Yonder's new cocktail menu.
"Locals card only" Queenstown happy hour for the launch of the new drinks will be dropping in the next few weeks, so you should get your hands on a locals card faster than A$AP Rocky can get out of jail. How can you get in on all these good times? All you have to do is stop by and sign up for your free local's card, then sit patiently by your inbox.
The current Yonder cocktail menu .
Best Happy Hour in Queenstown
June 12, 2019
It's no surprise that Queenstown is a regional hot spot for the cold winter ski season. Everyone loves a Queenstown happy hour, but there's something extra nice about happy hour on vacation. A long trip deserves a referring beverage, and if you're from Australia, then the prices are already pretty good!
So when Jetstar Australia recognised Yonder as among the best happy hours in Queenstown, we where pretty chuffed. Snow also means Apre, and being that we're in a cozy stone cottage, we are lining up to have a killer apre for this season. Fire places, discounted drinks, live music and Queenstown's best atmosphere. Check out our drink menu here. Book a flight into Queenstown with Jetstar or go warm up if you're over the cold!
"Good Time Dining" with Yonder's new menu
May 24, 2019
The story behind Yonder Queenstown's new brunch & dinner menu.
Our aim for the new menu is to deliver a fun assortment of dishes, collected from our travels around the world. Good Time Dining is the mantra. We want to be the place where you try one dish you like and one dish you've never heard of in the same seating, ideally while bopping along to a jazz/rap instrumental that you can't quite place (most definitely it's something from MF.Doom).
We aren't a conglomerate of industry specialists that run our food through a profit making algorithm. We're a collection of misfits, all under the age of 40, that want to live inside of this little art project that we call Yonder. For some people, that doesn't sit well. They want square plates, square meals and white sheets. But that's not us.
For this newest release, our menu brings some more asian inspired dishes like Laksa and Korean inspired short ribs. You'll also recognise some remixes of handheld street food favourites like a breakfast taco and a killer steak sandwich. For the more adventurous there is the amazingly flavourful Congee, an asian rice porridge packed with some flavours that will shock your morning tastebuds awake in the am. Naturally, we kept plenty of vegan and vegetarian options that are tempting enough for everyone. Standouts include the new Nourish Bowl and Vegan Breakfast Butty.
We don't make vegan, vegetarian and gluten-free food because its trending. We make it because our club leader Gary got MS and food has helped him heal. At Yonder we want everyone to have options and to eat together, talk about food, experience food and maybe even argue a little bit about food. Like who's got the best plate. You can read about how far we've come from day one here.
Urban List: Best Bars in Queenstown
May 15, 2019
Like getting a nod from a rockstar, it's nice to get noticed. We're so stoked to get a shout-out from Urban List. The crew at Urban List are known for having their ear to the streets, and building tasteful content maps for the cool kids to explore New Zealand and Australian culture.
We cover everything happening, trending and worth knowing across music, entertainment, style, design, food & drink, travel, beauty, health and careers.
Founded in 2011, in just over 7 years, we have grown to become Australia & New Zealand's largest youth media brand.

-Urban List
The UL team is a great resource for all things cool in Australia and New Zealand. Here's what they said about Yonder's nightlife:
Yonder
If you're looking for something to do in Queenstown at night, look no further than Yonder. This all-hours establishment is buzzing from morning till night. Start with dinner—their experimental kitchen caters to all dietary requirements without compromising on flavour. With a menu inspired by all their favourite dishes from their travels, you'll want to sample everything. Linger over drinks and live music, that'll have you dancing until the wee hours of the morning.
Check out more writing by the author at Prairie Girl Musings.
The Best Mother's Day Reservations & Pop-Up Shop
May 07, 2019
Shout out to all the moms out there! Sunday is your day. A day when we tip our mimosa glasses to you and all the extra effort it takes to be a mom. We all appreciate it.

SIGN UP FOR MOTHER'S DAY BRUNCH OR DINNER HERE
Book your mothers day reservations here for Queenstown's best brunch or Queenstown's top dinner.
SIGN UP FOR MOTHER'S DAY BRUNCH OR DINNER HERE
To make this Queenstown Mothers Day even more special we've partnered with local Queenstown artisans, DIY and crafters. We'll have the option for custom gift packages waiting for you at your table from these amazing makers:
Beautiful custom flower arrangements by Queenstown florist @bespokeweddingsandevents
Natural skincare product to help the mother in your life glow. @NudiPoint
Tasty, raw, vegan and fresh treats from @remarkablyraw
Tasty, raw, vegan and fresh treats from @remarkablyraw
Best Brunch In Queenstown- Nina Life
April 30, 2019
Japanese mom, travel blogger and writer Nina Life was kind enough to include Yonder as best brunch in Queenstown. We loved Nina's pictures of our coffee, fresh baked goods, vegan food and breakfast. View our Queenstown brunch menu here.
Queenstown Vegan Hot Spots
April 20, 2019
We're stoked to be included as a Queenstown Vegan hot spot by www.justinpluslauren.com. It has been amazing to watch the offering for Queenstown's different food lifestyles grow over the years. When Gary started Yonder, just over a year ago, he did it to help support the different food lifestyles and to add diversity to Queenstown's Vegan, veggie, dairy-free, and paleo scene.
The inspiration for Yonder's menu comes from worldwide travels. Their other primary focus is catering to various dietary restrictions, so they have plenty of vegan, vegetarian, and gluten-free choices.

Justinpluslauren.com
It is great to be recognized as one of Queenstown's best vegan restaurants by independent travelers. See our Queenstown Vegan menu here.
Queenstown's best coffee card
April 18, 2019
So looking for Queenstowns best coffee while you're living that #vanlife and bouncing from place to place. By now you're sick of black plunger coffee, and besides who doesn't want to search out the best coffee shops in New Zealand while you travel? If you're serious about you brew, you know that this struggle is somewhat real.
This is where the Coffee Card comes in. Easy, free and portable, Coffee Card lets you gain rewards no matter where you choose to sip. Plus, it frees up some space in your wallet so you don't end up looking like poor George.

"It is also a point of difference between cafes. A tourist passing through with the app will choose an outlet from the location map,"
"It's good for everyone, the cafes, the locals, the tourists."

-Coffee Card creator Ben Clark
Yonder is stoked to provide this service to provide free coffee's to all those that earn it in Queenstown. Buy 9 coffees anywhere in New Zealand and earn Queenstowns best coffee from us. We serve more than just great coffee, check out our drinks menu here.
We're happily supplied by our homies at Supreme coffee and bring a globally trained army of experienced baristas to every cup of coffee we make.
Read the full article from stuff.co.nz
Hello From Denizen Navigator in Queenstown
April 03, 2019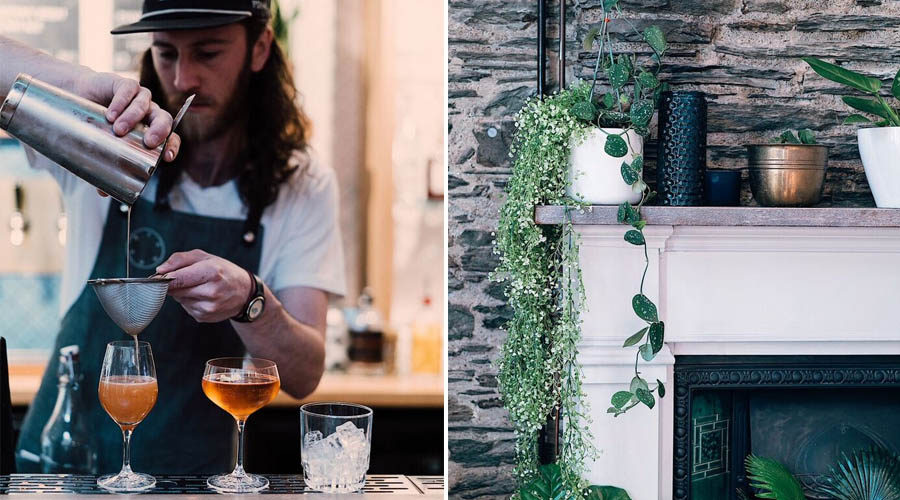 The Travel pros at Denizen Navigator were kind enough to stop by Queenstown and write a nice word about us.
Pushing culinary boundaries in unexpected ways, Yonder is the health focused eatery that Queenstown can't get enough of. Set in a cute stone cottage on one of the town's main shopping streets, the interior is contrastingly sleek and contemporary and so is the food. Yonder boasts wholesome fare to suit every palate and persuasion. Their menu encompasses dishes free from gluten or dairy, nuts, sugar, animal products, and other unnecessary nasties.

– Denizen Navigator

Catch the full article here.

Queenstown Brunch Menu
March 28, 2019
We wanted to update our Queenstown brunch menu before the rain set in. Then the subtle realization that the sun is already setting behind the Skyline Gondola. Ready or not, winter is coming. Last Fall Quanta's was kind enough to include us in their Ulitmate Ski Season Guide to Queenstown and call us The Best Brunch in Queeenstown.
We're always traveling, reading and scheming new dishes to add to our menu. This winter is no exception. We've got a pocket full new ideas that we'll be releasing just as you start trying on those grody old ski boots to see if they still fit.
---
Against our better judgement, we've released the creative coffee minds from behind the espresso machine. The Yonder coffee team has some truly unique vegan latte's they'll be dropping next week. Naturally, we want to have the best coffee in Queenstown, but we also want to bring some weirdness to the local beverage scene. Sometimes a flat white every day is just so. damn. boring. Try something new like the vegan latte special or our Cold Bro Martini, housemade cold brew coffee made right here in Queenstown. If that's not your thing, we've got a pretty damn good flat white too.